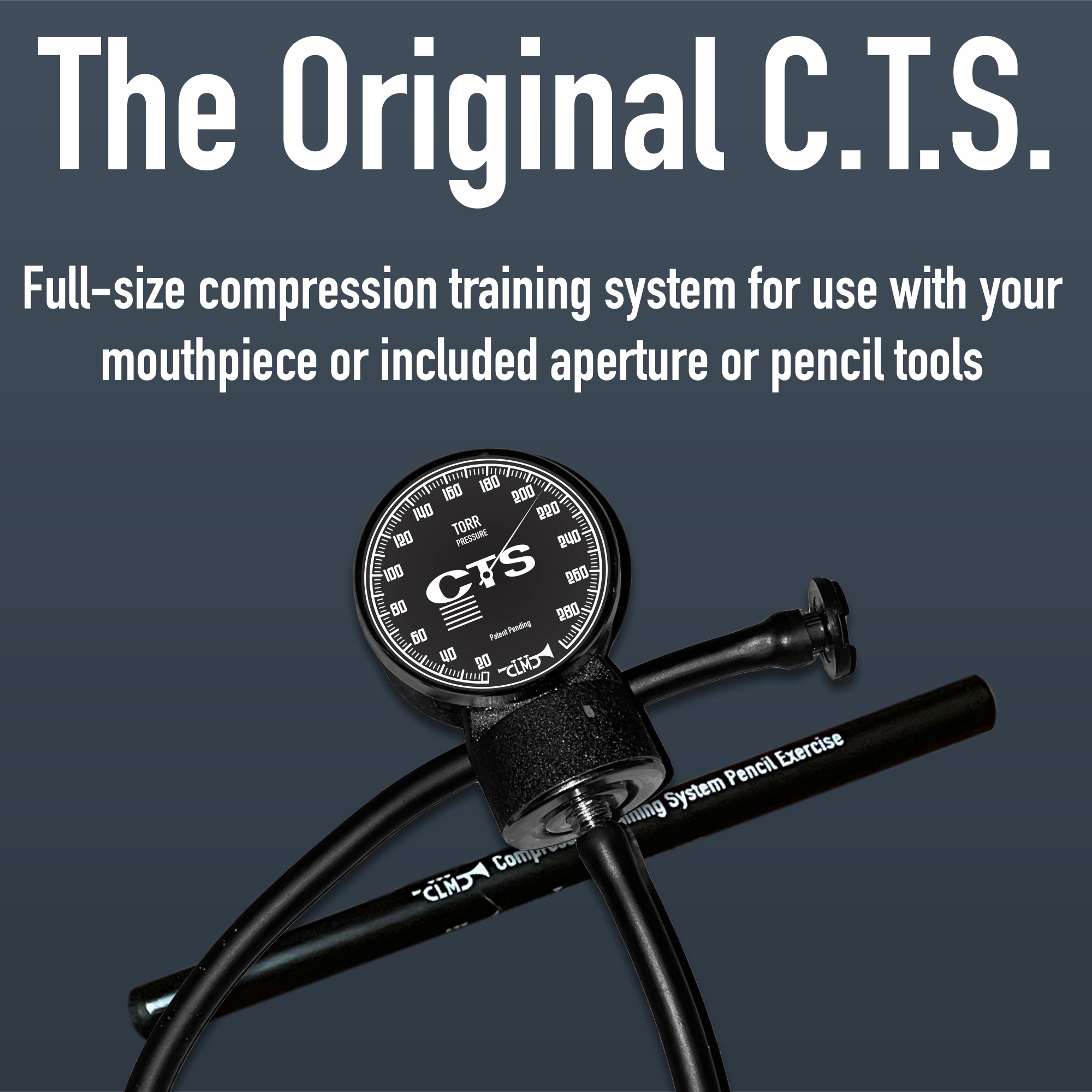 The Compression Training System exercises the muscles of the embouchure quickly, efficiently, and silently. Professionals the world over say it's "like weightlifting for your chops" – providing an embouchure training program that builds muscle, directly translating into effortless music making.
A Word from Wayne Bergeron
I'm not one to jump on the bandwagon when it comes to trumpet gadgets. That being said, the CTS is something I have found very helpful during my rebuild from cancer treatments and a botched dental visit that left my lower right side numb for over a year. My lip is still slightly numb on my lower lip right side to this day almost two years later.

I've known Larry for over 40 years. He always had amazing chops and was a player we looked up to at Disneyland in our youth. Like myself, Larry has been through his share of health and dental issues. Watching how Larry put himself back together after his adversities is truly astonishing.

After struggling to get my chops back, I decided to give Larry a call for some advice. My right side was weaker and leaking causing several playing issues. He sent me a prototype of his CTS and gave me brief instructions on how to use it. Between doing some of the exercises on the CTS in the car, and some facial exercises my dear friend, Annie Bosler, showed me, I have made some substantial progress.

I saw Larry last week at a gig, and he laid the final version of his CTS on me. Thanks, Larry! I use the CTS just about every day now. As we get older, recovering from these types of injuries take longer. I believe the CTS has sped up my recovery substantially, and it is now part of my daily practice.
Testimonials from more legends of the brass-playing community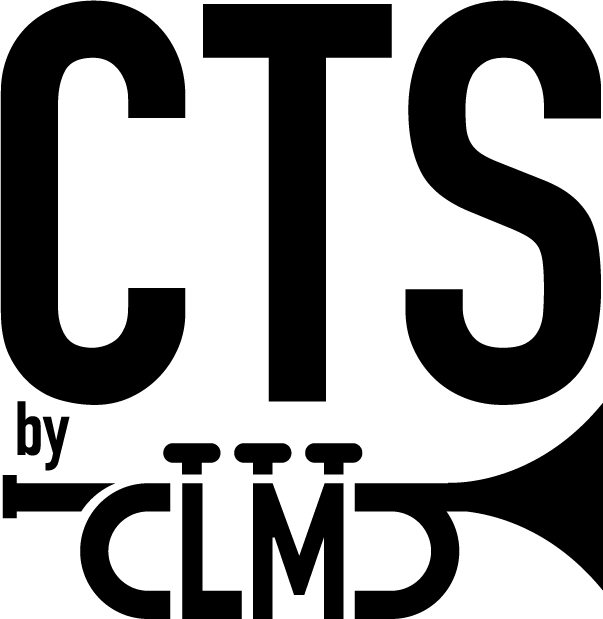 Compression Training System
by Larry Meregillano
Compression Training System
by Larry Meregillano
A SYSTEM BUILT ON YEARS OF STUDY AND RESEARCH
The Compression Training System by Larry Meregillano is the first system of its kind to silently exercise the muscles of the embouchure while employing the correct muscular coordination involved in compressing the air forward through the vibrating aperture.
ABOUT THE COMPRESSION TRAINING SYSTEM
Who is this for?
The Compression Training System is for all types of brass players and all skill levels that want to experience the correct muscular coordination and have the need to maintain their strength while exercising silently in a way that is consistent with their regular brass routines. There are no shortcuts. You must continue to dedicate time to your craft but with the use of the Compression Training System, you can accelerate your progress as you can now stay in shape exercising silently while achieving correct muscular coordination.
The system is good for most brass instruments including trombone, trumpet, euphonium, or alto horn. At this time, we have not yet developed the adapters needed for cornet, french horn, or tuba mouthpieces.
Features:
for all brass players of all skill levels
trains the muscle coordination to use compression and play efficiently
the system is portable and allows players to exercise silently
helps develop endurance, power, and range
accelerates your progress as you build muscle memory
the trainer can give a workout comparable to a 4-hour gig in a shorter time
daily exercise routines to maintain facial muscles when playing is not possible
track and measure your progress as you develop new levels of Torr pressure
Included in the Compression Training System
The foundation of the Compression Training System is the Compression Trainer, which is an accurate measuring device that provides natural, fluid back pressure with instantaneous feedback. The Compression Trainer helps to develop the muscular coordination that is necessary to properly compress the air and play efficiently. A key benefit of the Compression Trainer is that it also allows you to practice silently while maintaining and strengthening the muscles used in compression.
A Trumpet Legacy, Vol. 1 – CHOPS!
Start building your chops today with this trumpet method e-book from Larry Meregillano – a student of Roy Stevens of the Costello Method, Claude Gordon, Harold Mitchell, Carmine Caruso, and Cat Anderson – you will learn to develop chops like legends of the past.
Develop Range, Control, and Efficiency through correct embouchure formation.
Ear training while learning chord symbols, arpeggios, and scales.
Play along with each lesson using embedded sound files.
E-Book – download immediately and start learning today!
Testimonials for "A Trumpet Legacy, Vol. 1 – CHOPS!"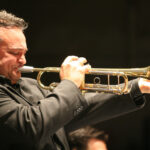 Your book is really interesting. So many great ideas on chops and embouchure and on how to use the facial/mouth muscles. The greatest thing is that i have exactly the same ideas of you on trumpet playing, and i teach in this same way. Same concepts at almost 100%. That's nice to see. I will spread the voice about it for sure. Thanks so much also for the very nice words about me, thanks from my heart.

A big hug from Italy, Andrea Tofanelli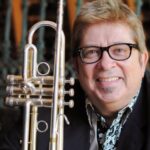 Larry Meregillano has some great information in his new book about trumpet playing and getting your chops together with easy to follow advice – along with some great jazz ear training exercises. The cost is less then what you'd pay for a lesson! Check out Larry Meregillano's videos – he knows what he is preaching about.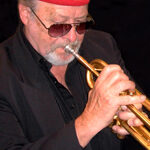 Larry Meregillano is amazing! Not only is he an international trumpet master, but with his new book "A Trumpet Legacy, Vol. 1: CHOPS!", Larry has successfully demystified the trumpet, making his mastery available to anyone from the beginner to the seasoned veteran.

He is impressive, not only with the clarity, brevity and humanity of his writing, but how effortlessly he takes the mystery out of playing in the extreme high register on the trumpet. No ivory-tower approach here, just the real stuff from a consummate professional who practices what he preaches every day!

The book has something for every player. I got more benefits out of reading his introduction to the book than a whole text on the subject by others. One small adjustment (if it's the right one) can make such enormous changes that it puts the fun back into playing trumpet!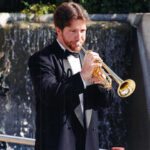 I have had the pleasure to know and play shows with Larry Meregillano. He is truly one of the rare guys whose knowledge, skills, passion, enthusiasm and virtuosity all come together with him providing all of us here in this book the most complete analysis in one place I have ever seen on the embouchure. The analysis and ideas shared, the breadth is long overdue in the trumpet world, this is truly an amazing book.

Larry's chops and skills speak for themselves as one of the best jazz and lead trumpet players of our time. He proves to be the same as a teacher with this amazing book. Larry provides real world insight and practical advice on how to build, maintain and have truly great "Chops"!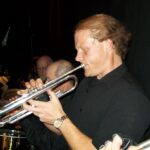 I'm thrilled to have been included in 'A Trumpet Legacy, Vol. 1: CHOPS!' – a highly comprehensive trumpet method book written by the great Larry Meregillano. The book contains new concepts on playing, as well as Larry's fresh twist on common practice. It's interactive, containing exercises that are sure to expand your knowledge and ability. It's 180+ pages of pure gold. Along with Roger Ingram's priceless publication, and the innovative books Scott Englebright and I did, 'A Trumpet Legacy, Vol. 1: CHOPS!' is another new, favorite method book of mine. Please visit Larry's page and check it out, and check out his clips on YouTube!
Compression Training System, Books, and Accessories
Use the form below to contact Larry about guest artist appearances, clinics, trumpet lessons, the Compression Training System, or his book "CHOPS – A Trumpet Legacy, Vol. 1"